23andMe is adding a much-needed tree tool for genetic genealogists to help DNA matches learn how they may be related. Here's what it looks like and how to get access.
This post was updated on 10 March 2020.
23andMe is perhaps best known globally for the Health part of its popular Health + Ancestry test. But given its enormous pool of more than 10 million testers—second only to Ancestry's at 15 million—a lot of genealogy connections happen on 23andMe, too. However, one drawback for those looking for family connections on 23andMe has been the lack of ability to share and compare family trees with your DNA matches to figure out how you're related.
Well, that's changing! The site is beta-testing a new Family Tree reconstruction tool that uses your shared DNA to visually reassemble a genetic family tree with your DNA matches on it.
23andMe Family Tree – Beta
23andMe is beta-testing a new Family Tree builder that works based only on your genetics, with no input from your genealogy. This is especially great news for those who don't know their family trees or haven't entered the information into a tree file yet.
"Your genetic family tree [on 23andMe] is built automatically by an algorithm that predicts relationships based the DNA shared between you and your DNA Relatives," explains a recent company statement. "The size of your family tree depends on how many connections and DNA Relatives you have close relationships with in the 23andMe database. Participating in 23andMe's DNA Relatives tool helps improve the experience. As the 23andMe database grows, customers may see their trees expand.
Update in March 2020 from 23andMe:
"As of February 2020, 23andMe customers are now able to edit and add relationships to their Family Tree for richer storytelling and accuracy. Family Tree builders are now able to move individuals and groups of relatives elsewhere, and add relatives, even if they haven't participated in 23andMe's services. Customers can also add personal notes to the tree including ancestor names, important dates, and photos, and send messages to relatives who may offer more information and fill in further gaps on their Family Tree."
Here's what a portion of my reconstructed 23andMe family tree looks like (with names/faces of my DNA matches removed for privacy):
This is my kind of chart. Simple and beautiful, but also instructive. This is just the kind of thinking and mapping process we have to use to visualize our connections to DNA matches based on our total shared centimorgans, but 23andme is trying to do it for you.
In the image above, you can clearly see the two branches of my tree in different colors, blue for dad and pink for mom. While it takes a few minutes (ok, maybe longer than that) of studying to figure out exactly what the picture is portraying, relying on your knowledge of how families are organized can help. For example, everyone has two parents and four grandparents (two couples). You can see my parents, JH and CH. Then above my dad you see two medium dots – his parents. You can only see one of my mom's pink, medium dots in this image (you can't see the other one, it is off the page, that side of her family is HUGE). But if we march back in my tree, we should encounter my four great grandparent couples. And we do! The tool has identified both couples on my dad's side, and both for my mom (which, again you can't see).
Take just a minute to realize how absolutely amazing this is!
Even though there aren't any names, you can clearly see which relatives of yours, and of your matches should be connecting you. All you have to do now, is DO GENEALOGY!
Opt In to 23andMe Beta Testing
To access the new 23andMe Family Tree, current customers have to opt in to Beta testing. (Beta testing just means they're still tweaking it, so it may not be perfect yet and you understand that.) It's easy to join Beta. Click on your username, then click Settings. Scroll down to turn on Beta participation.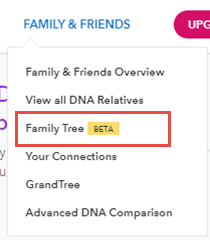 Once you've joined Beta, you'll be able to select the Family Tree option from the Family and Friends dropdown menu, as shown here.
23andMe's new genetic Family Tree (beta) is included in the brand-new edition of my unique quick reference guide to using 23andMe. This inexpensive must-have guide helps you understand and navigate all the great tools and information that come with your 23andMe test.