In case you missed the news before the holidays, GEDmatch was recently bought by forensics company Verogen. Here's why this matters to the DNA testing world, whether you use GEDmatch or not.
In early December 2019, forensic company Verogen announced its acquisition of GEDmatch, the free website where people upload and compare genetic genealogy DNA tests from different testing companies, in the hopes of finding family connections beyond their own company's testing pool. So, now that the holiday season is over and you've got some bandwidth for paying attention to this…what does this matter or mean for you?
A Promised Future for GEDmatch
First of all, a quick summary of what Verogen and GEDmatch are promising will come from this deal. From the Verogen press release: "In the coming months, GEDmatch users will begin to see improvements to the website, such as an enhanced homepage that offers increased functionality….Verogen will also bolster the GEDmatch platform, resulting in increased stability and optimal searchability. These back-end changes won't disrupt the experience for users and, in fact, will make searching the database easier. GEDmatch's terms of service will not change, with respect to the use, purposes of processing, and disclosures of user data, Williams confirmed. The website gives users a choice to opt-in to allow law enforcement to search uploaded files as a tool to solve violent crimes."
What does the buyout mean for you?
The acquisition of GEDmatch by forensic company Verogen impacts you as a genetic genealogist—whether you have uploaded your DNA there or never even heard of the site.
This acquisition reminds us that none of our companies can guarantee they will be in the same form or function that they are in today, or that they will be around tomorrow (or next week or next year). Each company has to make ongoing choices based on what they believe is best for the health of their company, and ideally, what they feel is best for their customers.
GEDmatch has been in a precarious situation since its database was used to solve a high-profile criminal cold case in April of 2018. Precarious because it has been forced to make a lot of tough decisions without a lot of precedent—decisions that have eroded its strong support base within the genetic genealogy community, and ultimately cost it many of its users. On top of that, the entire system of GEDmatch has undergone intense scrutiny and been criticized for its lack of security, among other things.
While they did have a strong and mighty band of supporters, it was becoming clear in recent months that to securely serve both their old genealogy clients and their new law enforcement clients, something would need to change. This merger is that change.
Accepting the New GEDmatch and Verogen Terms of Service
Before you can login to GEDmatch, you will need to accept its new Terms of Service. The site will then let you decide which of the profiles you manage will be merged into this new Verogen endeavor. Here's a few screenshots that summarize the process: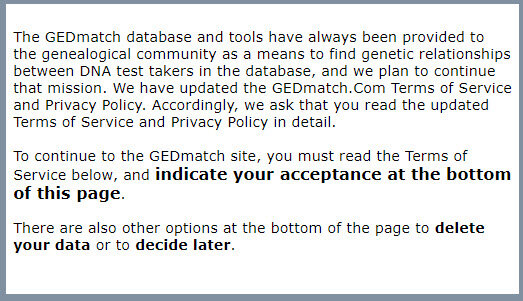 Then you can scroll down through the entire Terms of Service before you get to your options: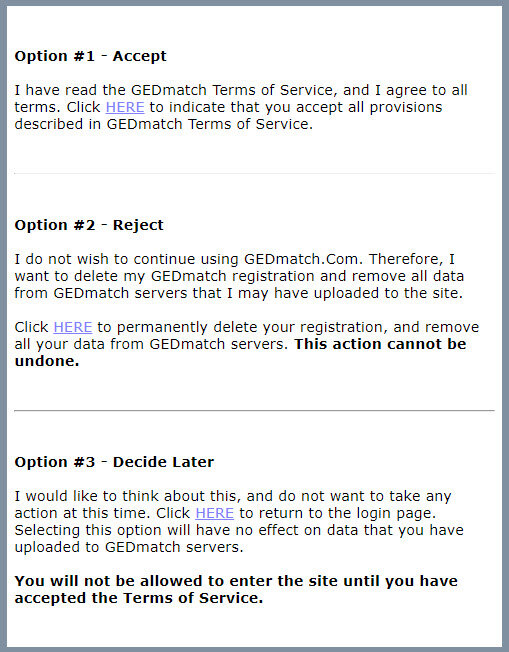 (That third option will just return you back to the home page.)
Genetic genealogy: A community and an industry
This is a clear wake up call for any who had any doubts that our genealogy community has collided with the investigative genealogy industry. And this won't be the last big change that we see. But unlike company mergers by airlines or cell phone carriers, this is dealing with your very personal genetic data. So you can't just blindly accept new terms and conditions and continue on as you once did.
This means that everyone needs to properly inform any person whose DNA they have uploaded into GEDmatch of these changes and find out their personal opinion about how they want to move forward. Please do not migrate any DNA kits for people whose kits you manage without first asking their permission.
This is also a good reminder about the value of the genetic genealogy databases and how attractive they are to different industries. It is vitally important that you understand the Terms and Conditions you agree to at each company! You need to be sure you are only sharing your data with companies that will be good stewards over your data and use it in ways that are beneficial to you and align with what you value.
At the news of this merger, chat rooms exploded with comments on both sides about whether this was a good idea or in the best interest of genealogists. GEDmatch founder Curtis Rogers responded with an email to all users addressing some of the top concerns. He insists that GEDmatch will remain much as it was, with free tools and tools for a nominal fee. He also addresses the uptick in security that this merger will allow, making the database overall less vulnerable to breach.
What the future holds for GEDmatch specifically and for the partnership of genetic genealogy and law enforcement, it is hard to say. But we certainly can't afford not to pay attention, whether you're using it or not.
Learn more about DNA testing options
Oue mission is to provide you with the resources you need to learn to "do the DNA" yourself, becuase you can! Our Quick Guides are just the thing to get you started. Check out our Quick Guides and learn more about the other DNA testing companies and the special tools each one offers.