DNA tests from 23andMe and AncestryDNA require saliva. What if you (or your relative) can't spit to provide the sample?
"My uncle has severe Alzheimer's. I have tried to get enough spit from him for AncestryDNA to test but have been unsuccessful. What should I do?"
This question from a client (I'll call him Jorge) is pretty common, so I thought I'd share what I told him—and how things turned out for him. First, a little background.
DNA Tests: Saliva, Spit, Why?
Some consumer DNA tests, such as 23andMe and AncestryDNA, collect your DNA sample via your saliva. Basically, you have to spit into a little vial until it's full.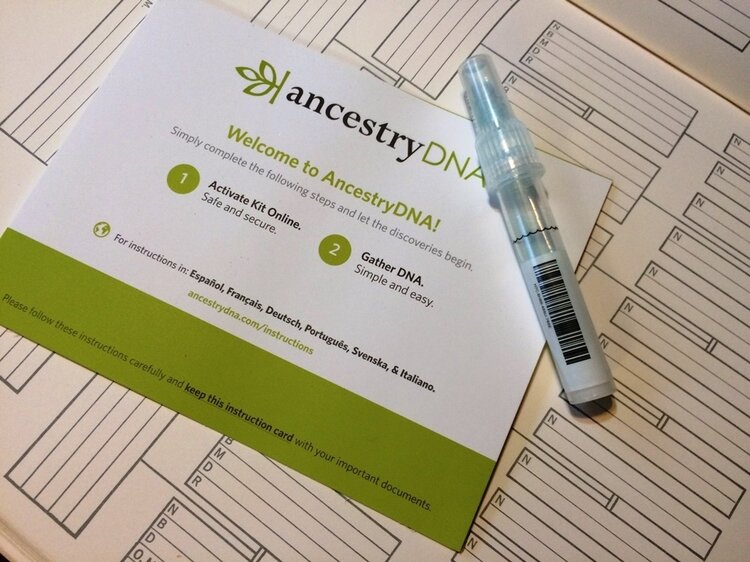 Why do DNA testing companies use saliva samples instead of swabs? 23andMe gives this explanation:
"The best way for us to obtain sufficient quantities of DNA for our analysis is through a saliva sample. Saliva samples offer a convenient and non-invasive method for DNA sample collection as compared to hair and blood samples. Cheek swab samples of DNA (as you may have seen on television programs or in movies) do not consistently give sufficient DNA yields for the testing that we conduct." (23andMe)
The total amount of saliva they're collecting is tiny—23andMe says it's only about 2ml or 1/2 teaspon. But if you or your relative don't produce much spit, even this small amount can feel like a lot.
Tips for Generating More Saliva
AncestryDNA gives these tips for getting enough saliva for your sample:
"To encourage saliva production, gently rub your cheeks from the outside (pressing them against your teeth and gums) before spitting into the tube.
If you find it hard to produce saliva, place 1/4 teaspoon of white table sugar on your tongue.
If you can't produce enough saliva in one try, refrigerate your tube in an upright position between attempts. You can refrigerate your sample for up to a week before needing to add it to the stabilizing fluid in the saliva tube." (AncestryDNA tutorial)
I told Jorge (and I'm repeating it here) and that he could also try using a swab to collect DNA even for his spit-sample AncestryDNA test. A determined researcher figured out how to create artificial saliva into which she put her relative's swabbed DNA sample.
Here's what Jorge said: "I want to THANK YOU for giving me the formula for saliva. I used it for my uncle not knowing if it would work….He could not spit, but his mouth has lots of saliva when I started doing the cheek rub. I got it. Three weeks later I got the results."
Yay!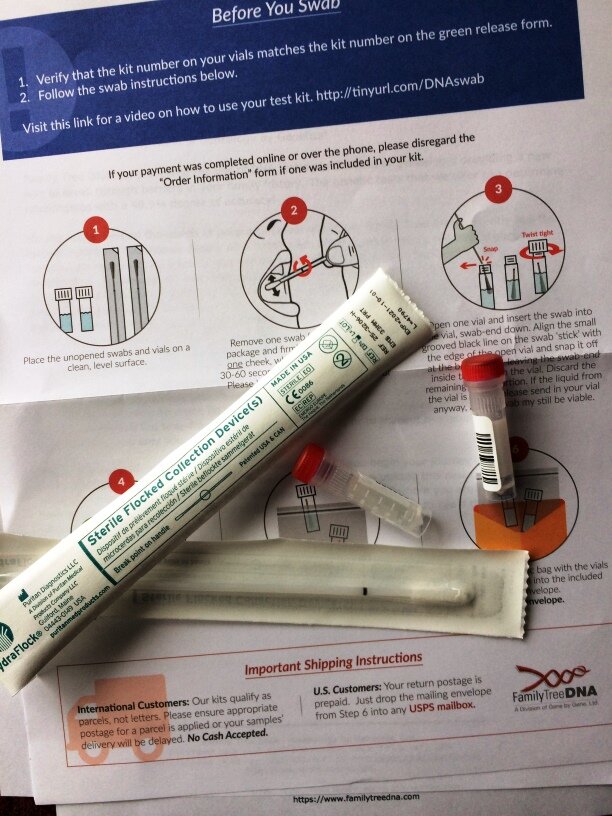 DNA tests that use swabs
Another option, depending on your research goals, is to choose a testing company that doesn't require saliva. The other DNA collection method is by swab. Both Family Tree DNA and MyHeritage DNA use swabs, or little brushes that scrape the inside of the cheek (it doesn't hurt).
Need a little more help with DNA testing?
My Autosomal DNA quick reference guide takes you through the process of testing at 23andMe, AncestryDNA, or other autosomal DNA testing companies. Learn when to test; what the test could tell you; a detailed comparison of the different testing companies; how to understand and use your ethnicity results; and more. It's an inexpensive investment in testing.