Sorting your DNA matches by places—their current locations and/or your shared ancestral locations—can sometimes help you find DNA answers!
Have you ever sorted your DNA matches by location? Either by the reported location of your matches themselves, or according to your shared ancestral locations?
Doing so can sometimes be useful. For example, let's say you're searching for an ancestor from a certain country, and you want to find matches who still live in that ancestral location. Or, let's say you're trying to determine how you're related to one of your mystery DNA matches. If you can't tell from your shared matches and you don't see any shared surnames, the next step is to look for places you have in common.
Each DNA testing company offers different ways of searching for places associated with your DNA matches. You will want to start by searching for matches who physically still reside in a location of interest, or look for specific ancestral locations taken from their family trees. If you still come up empty-handed, you can try searching by ethnicities you share. In some cases, ethnicities can act as a rough surrogate for places.
Let's take a look at how to do this at 23andMe, Ancestry, Family Tree DNA and MyHeritage.
23andMe
Sorting DNA Matches by Location
When you log in at 23andMe, an option to see your DNA match locations appears at the top of the page:
When you click on "View your DNA Relatives Map," you'll see a map like this:
Those purple dots indicate how many DNA matches you have who report living in these various locations. Zoom in, and you'll start to see individual match icons. Click on one to see a thumbnail summary, as shown here, and then click the summary to see that match's profile page.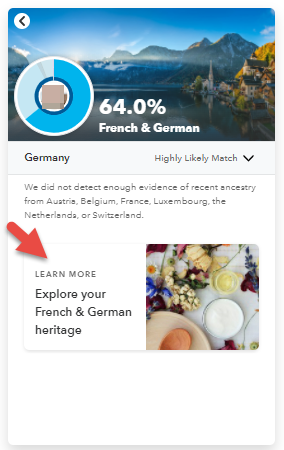 View shared ethnicities at 23andMe
Under the Ancestry tab, select Ancestry Overview, then click the button "View Your Ancestry Composition." Select an ethnicity and then "Learn More," as shown here. When the new screen comes up, scroll down to the bottom of the page. Then you'll see a few DNA matches who share this ethnicity:
Search 23andMe match list by ancestral location
You can also search your entire DNA match list for ancestral locations associated with your DNA matches. Either run a keyword search for a location or scroll down and open the Ancestral Birthplaces options. Click on a country to filter your matches to people who have at least one grandparent from that country. (You can also refine your search here to matches who have multiple grandparents from that country.) Keep in mind though, that most people at 23andMe have not entered any location information. So you could have matches from your desired location, but they won't show up in your search.
Compare ethnicities at 23andMe
Finally, for any individual match, you can also compare ancestral locations and ethnicity. Once you've clicked on an individual match, scroll down to see their family background table and an ethnicity comparison:
AncestryDNA
Map of your DNA matches
Once you've logged in to your Ancestry account, under the DNA tab, select DNA Story. Your ethnicity overview will open. Scroll down to the DNA Matches: Where Your Family Lives Today section, and you'll see the map populate with whichever of your DNA matches have shared their locations.
Matches Who Share Genetic Communities
You can't view your AncestryDNA matches who share your ethnicity, but you CAN view a few selected matches who share your Genetic Communities (shown below as "Featured Matches").
Genetic Communities usually represent more specific ancestral villages and migratory groups. It's great when you can associate any of your matches with your Communities!
Shared Places with Individual Matches
When you're trying to learn more about a specific DNA match, you can look in multiple ways for the places you have in common. When you open your match's profile, you'll see the option to compare your tree data (when both you and your match have provided it). Scroll down past your common ancestors and surnames, if there are any, to view shared ancestral birth locations:
You can also select Ethnicity to compare your ethnicity estimates and see what Genetic Communities you share.
Family Tree DNA
Compare ethnicities
At Family Tree DNA, for the Family Finder (autosomal) test, you don't have all those great options. But after you log in, under the Results & Tools tab, you can choose Autosomal DNA > MyOrigins. Choose the option to compare origins (shown below). Select one of your DNA matches and you'll see a comparison chart of your ethnicity percentages:
You can use the filter and sorting options to show only certain matches (immediate family, etc).
At Family Tree DNA, if you've had YDNA or mtDNA testing done, you can also look at haplogroups, as well as view your mtDNA and YDNA matches on a map when your match has provided location information. These can be interesting and useful, but these don't often represent recent ancestral places.
MyHeritage DNA
Map of your DNA match locations
Note: Many of the tools below do not automatically come with your DNA test results or when you transfer your DNA from another company to MyHeritage. If you transfer, pay a modest fee to unlock these tools; here's why it's worth it. If you've tested there already, you'll need to maintain a qualifying subscription.
Transfer My Results to MyHeritage
Under the DNA tab, you can scroll down to see a world map of where your DNA matches live:
If you select one of these locations, it will show you a list of your DNA matches with those origins, beginning with those with whom you share the most DNA.
Back on your main DNA page, you can scroll down further to see the ethnicity distribution of your DNA matches. You'll see your own ethnicity percentages listed on the left. On the right, you'll see how many of your DNA matches also share that ethnicity.
Sort by location, ethnicity and Genetic Group
When you go to your MyHeritage DNA match list, turn on the filters. You can sort by your match's location here, too, as shown (#1). You can sort by shared ethnicity (#2). But the most illuminating place sort is by Genetic Group, most of which are affiliated with at least one place. Genetic Groups identify clusters of testers who all share genetic ties with small, specific places or migratory groups.
Compare places with individual matches
Once you click through to view an individual match at MyHeritage, you can scroll down to see a few options for comparing places.