There IS a way to download your family tree from FamilySearch so you can attach your tree to your DNA test results. Here's how.
When you build your family tree on the free genealogy website FamilySearch, you help contribute to a global, shared, public family tree. This tree-building model has its pluses and minuses; it's free and collaborative, but people may contribute mistakes as well as good information. And the site doesn't have a way for you to download your tree data directly.
But I have some good news. First, 23andMe users can link their FamilySearch data directly. Second, for other sites that require you to upload a tree, you can download your tree data from FamilySearch. Here's how to do it.
How to download your family tree from FamilySearch
First, review your ancestry as shown in the FamilySearch tree to make sure it's accurate (to the best of your knowledge) and reflecting biological ancestry (again, to the best of your knowledge). For example, my relative James Edgar Hall has more than one set of parents listed in the FamilySearch tree. His mother died when he was young and his father married my great-grandmother, who raised James. In his personal profile page, I've set the preferred view to his biological mother where you see the arrow pointing. This is so I can download a tree that's most relevant to my DNA matches.
Downloading your FamilySearch Tree with RootsMagic
Downloading your tree from FamilySearch requires you to use third-party software that is certified by FamilySearch to work with its tree, ie., Ancestral Quest, Legacy Family Tree or RootsMagic. Here are instructions for how to do this with RootsMagic Essentials, the free downloadable version of RootsMagic software. (If you use the full version of RootsMagic software, follow the same instructions.)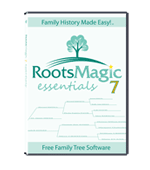 Download RootsMagic Essentials. Go to the RootsMagic website landing page for RootsMagic Essentials. Click Free Download, and then enter your name and email address. (Click if you want them to send you product news and updates.) Then select whether to download the PC or Mac version. Install the software (on a PC, you'll click on the downloaded file and run it). Now it's time to follow these step-by-step instructions:
Open RootsMagic Essentials.
From the welcome screen, select the option to create a new file OR from the File dropdown menu, choose New.
Enter a file name. Click the option for FamilySearch Family Tree support and, if you will be doing any additional research from this file, click the option to enable web hints and match to FamilySearch when hints are found. Choose additional options as you wish, as shown below. Then click OK.
4. You'll see an empty family tree open in front of you. At the top of the window, click on the FamilySearch icon. Its appearance and position may change slightly over time. Here's what it looks like now: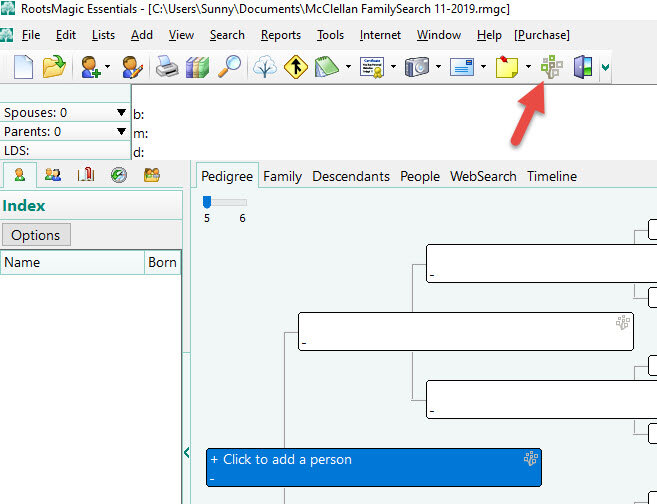 5. A FamilySearch dialog box will open. Click the option to log in to FamilySearch. Log in; select any other options you like, such as automatic future logins.
6. After successfully logging in, click Import. You'll be given options as to how many generations of your ancestry to import. You can also import the tree of a relative in FamilySearch, if you know their person ID.
7. It may take awhile for FamilySearch to import all the data you've requested. Once it's done, the empty pedigree chart on the screen will fill.
8. Now it's time to export the tree file you've created. Go to File > Export. Select the items that should be included in your exported tree, then click to export the file.
9. Assign a file path to your new file. The filetype is a .GED, commonly pronounced "jedcom."
10. Optional: if you know of any non-biological lines in your ancestry, but there were not known biological parents to list on FamilySearch, you can remove those non-biological lines in RootsMagic. Make any additional edits you like before uploading; RootsMagic Support has lots of online user support to help you do that. See these tips for creating the best family tree for DNA matching.
11. Upload your tree file to your DNA testing site to attach it to your genetic profile (here's how to do this in AncestryDNA or MyHeritage DNA. This will make your DNA matches experience SO much richer!
What's next? Build your family tree by working with your DNA matches!
Get the most out of your experience with our freshly-updated quick reference guides for 23andMe, AncestryDNA, Family Tree DNA and MyHeritage DNA. Trying to extend your family tree? I suggest you purchase our inexpensive, must-have guide, Finding an Ancestor Using DNA. Our quick reference guides are a compilation of everything you need  to know on the topic, and nothing more. They are the perfect way to take the next step in your genetic genealogy learning.
Take me to those Quick Guides!